Modern furniture collection
Modern designer sectional sofa
★★★★★

Love it!

Love the couch so much! It's super cozy and stunning! I can't stop looking at it :') Delivery was prompt and communication with Retro Modern was prompt and friendly. Thanks so much!

Lucy

Calgary
★★★★★

Great Purchase!

Great customer service, Jeff was very helpful and responsive on all my questions and correspondence. with just a bit of paint precision on the ottoman feet. The chair was well packaged in a strong cardboard container.

My only negative was with delivery, as the shipment sat at the local depot with transport company for week before it was finally delivered.

Overall, I would absolutely recommend and purchase again from Retro Modern Design.

Frank

Ottawa
★★★★★

Amazing Piece! Great Service!

We love it! Delivery was quick and a nice surprise, as we were supposed to pick it up from the warehouse.

Nadia

Vancouver
★★★★★

Tufty Sofa
We are very very happy with our Tufty sofa. It completes the living room with a mid-century modern appeal, and definitely adds the "wow" factor to our new home.

Teresa

Vancouver
★★★★★

Love love LOVE
I love this couch more than I can put into words - its comfortable and stunning. It is the focal point of my living room and I love it!

William

Toronto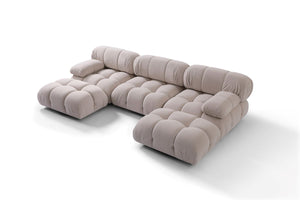 Modern classic meets timeless design
Bellivano sofa
Create your own masterpiece with this Sectional sofa design.
Shop Bellivano sofa
Our mission
At Retro Modern home we carefully select our products to make sure you are getting furniture that will last and that you will enjoy. We choose the most unique and sought after Mid Century Modern furniture designs and often create our own unique original pieces. Some of these designs you may be familiar with and others may be new to you. Our goal is to provide you with a wide selection and variety of items, and ethically price them to make them available for everyone to own.
Review us on Google
If you have purchased from us or dealt with us and would like to share your epxerience. Please leave a review on google. We appreciate it very much. And send us pics too. we love seeing them.
We offer an affordable flat rate shipping on all items across Canada. Shop now and compare our prices.
Disclaimer
All products and images on our website are of actual products we have manufactured. We do not use any images that don't belong to us. All images are the property of Retro Modern designs. We manufacture and develop designer furniture, Some designs are our own and others we reproduce. You may recognize some designs as classic Mid century modern designs but our versions are not to be presented as originals and have no affiliation with the original manufactures. As some of the furniture designs are 50-100 years old we highly respect all the great designers that have help pave the way in the furniture design industry and we are just doing our part in helping the world remember these iconic designs and make them affordable in our own way for everyone to own.